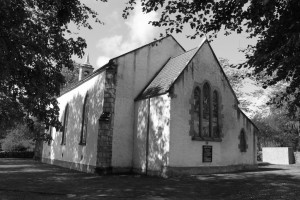 Location F94 E373
This appealing small scale early nineteenth century Church of Ireland was built in 1829, set back from the road in its own grounds to the north west of Donegal Town in the townland of Ballydevitt. This church replaced an earlier Church of Ireland church in Killymard located to the south-west which was in existence in 1622 and remained in use until the construction of this present church which retains its early form and architectural character.
Its pointed arched openings lend it a muted Gothic revival style that is typical of its type and date in rural Ireland.The attractive Y-tracery timber windows are a rare example of early window joinery and add further interest to its exterior.
Designed and erected by Graham in 1829 , who also built the nearby Church of Ireland in Donegal Town. It was later extended in 1891 with the addition of the shallow chancel and vestry.
This beautiful building is an important element of the built heritage of Killymard and plays an important part of the social history in the local area.
Morning Service at 9.30am (1st, 3rd & 5th Sunday of month).
1st Sunday of the month: Holy Communion
3rd, 5th Sunday of the month: Morning Prayer