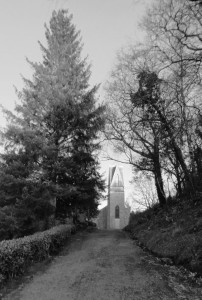 Location F94 K400
Isolated on a rural hillside this freestanding Church of Ireland was built in 1846. Located to the south west corner of Lough Eske and to south east of Lough Eske Castle, this distinctive small scale Church of Ireland retains its early form and architectural character.
Gothic revival style in design typical of its type and date in rural Ireland.
This church is notable for the unusual and distinctive crossed saddleback upper storey to the tower and this feature creates an unusual composition that is perhaps unique to County Donegal.
Its construction was originally funded by Thomas Brooke owner of nearby Lough Eske Castle and was originally built as an estate church associated with this castle acting as a chapel of ease associated with the parish of Killymard. In 1870 it became a separate parish.
Following the death of Thomas Brooke in 1884 it was bequeathed that a considerable sum of money was used to fund the alterations of the church .
In 1905 Christ Church was restored. A chancel was erected with new East window, vestry room, heating chamber and the gallery stairs were moved from the main body of the church to the tower.
This unique church with its conspicuous tower is an important element of the heritage of Lough Eske area and acts as a focal point in the landscape to the north east of Donegal Town.
Morning Service at 9.30am (2nd & 4th Sunday of month).
2nd Sunday of the month: Holy Communion
4th Sunday of the month: Morning Prayer